t
---
---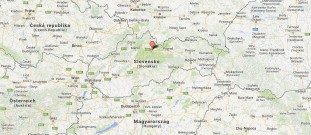 Welcome to Liptov, the region renowned for a wealth of natural gems. Liptov is one of the most visited destinations in Slovakia.
Located in the north of Slovakia in Europe, on the territory of three national parks and embraced by beautiful mountains (the High Tatras, the Low Tatras, Chočské vrchy Mountains, Veľká Fatra Mountain Range).
Cycling is a great way to get off the beaten track and enjoy all the stunning scenery that Liptov has to offer.

You can choose from mountain bike or road trails with various levels of easy, medium or technically challenging difficulty.

As you ride throughout countryside, towns and villages on many uncrowded routes your journey will be complimented by spectacular views of mountains, valleys stretching out in front of you, rock massifs, canyons, refreshing mineral and thermal water springs, water dams, lakes, pure streams, cool amazing caves, cultural heritage such as medieval castles, open-air museums, folk architecture, folklore.

And delicious food, too!

However you can still enjoy peace and silence, far away from hustle and bustle of the city,

and spot some of the local wildlife such as deer, birds of prey or even a bear.

Keep in mind that in Slovakia cyclists use the right shoulder of the road.

While riding outside a municipality(town, village) cyclists are obliged to wear a properly fastened safety helmet.

During your cycling break in winter you are welcome to enjoy cross-country or down-hill skiing, skialpinism on many snow-white slopes (Vyšná Boca, Liptovský Ján, Jasná, Pavčina Lehota, Závažná Poruba, Žiar, Malinô Brdo) or walking to mountain chalets (Žiarska chata, Kamenná chata, Chata pod Náružím).
Ahoj (Hello) Ako sa máš? (How are you?) Ďakujem (Thank you) Prosím (You are welcome)
Volám sa... (My name is...) Kde je...? (Where is...?) Koľko stojí...? (How much...?)
počasie (weather) auto (a car) vlak (a train) bicykel (a bike)
hladný (hungry) smädný (thirsty) voda (water) krčma (a pub)
pivo (beer) slivovica (plum brandy) Na zdravie! (Cheers)
pekný (nice) muž (a man) žena (a woman) dieťa (a child)
defekt (a puncture) obchod (a shop) dolina (a valley) čučoriedka (a blueberry)
Jánošík (Slovak Robin Hood, a legendary hero who robbed from the rich and gave to the poor)
fujara (typical musical instrument of shepherds unique to Slovakia - wooden overtone fipple flute)
Typical meals
bryndzové halušky so slaninou (potato dumplings with sheep cheese and bacon)
kapustové halušky so slaninou (potato dumplings with cabbage and bacon)
liptovské pirohy, Važec delicacy (meat in potato pancake), meteník (rub with cabbage),
dairy products: žinčica (acid sheep milk), sheep cheese, parenica (smoked cheese), korbáčiky (plaited cheese).
A Week
Nedeľa (Sunday) Pondelok (Monday) Utorok (Tuesday) Streda (Wednesday)
Štvrtok (Thursday) Piatok (Friday) Sobota (Saturday) sviatok (holiday)
Caves in Demänovská Valley, Važecká Cave, Stanišovská Cave
Mineral and thermal springs, water fun parks (Liptovský Ján, Tatralandia, Bešeňová)
Picturesque wooden village Vlkolínec (UNESCO World Cultural and Natural Heritage Site)
Medieval castle and manor house Liptovský Hrádok
Outdoor archeological museum and Celtic settlement Havránok
Wooden church near Svätý Kríž
Open-air Museum of Liptov Village in Pribylina
Water mills in Kvačianska Valley
Ruins of Likava castle and Sielenický castle
Museum of Janko Kráľ and Gallery of Peter Michal Bohúň in Liptovský Mikuláš
Miners' House in Vyšná Boca and Maša near Liptovský Hrádok
spectacular 6

The national park Nízke Tatry, established in 1978, regulates

a 728 km2 area with a buffer-zone to the 1828 km2.

So, NAPANT is the most extensive protected area in

Slovakia. It´s situated on both sides of the main ridge and

from Donovaly to Kráľova hoľa it is 100 km long.

+ the highest peak – Ďumbier (2043 m.a.s.)

+ the longest valley – the Čierny Váh valley (37 km)

+ the longest cave system – Demänovský jaskynný systém (35+ km)

+ the deepest cave – Starý hrad (– 495 m)

+ the highest waterfall – Brankovský vodopád (55 m)

+ the biggest glacial blind lake – Vrbické pleso (6800 m2)
Vysoké Tatry — The High Tatras Mountains